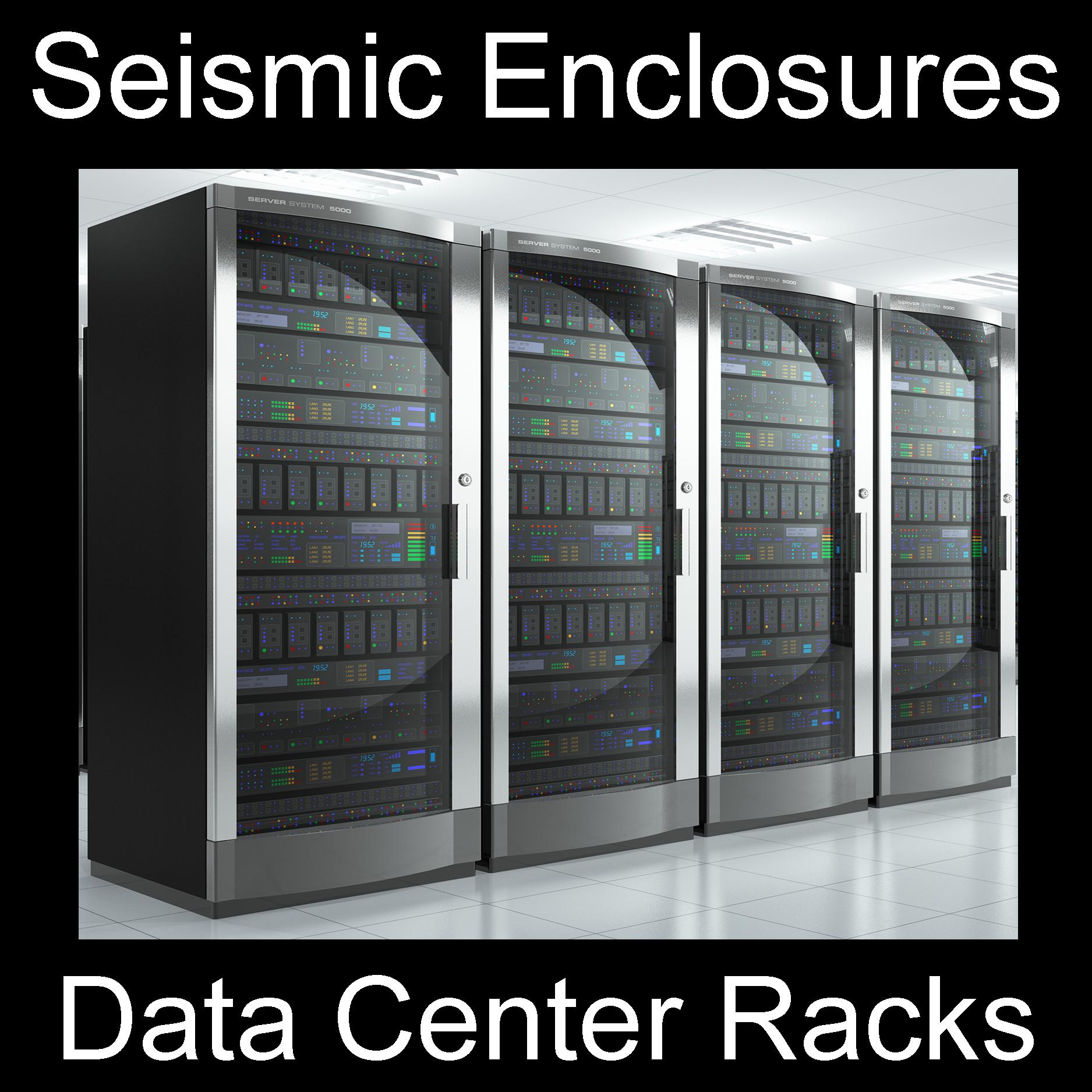 Data Center Solutions-Enclosure Racks Cable Management Hardware

Discount Data Center Solutions-Enclosure Racks Cable Management Hardware, Zone-4 Seismic Enclosure Racks, Electronic Enclosures, Corrugated Tubing, Cable Managers, Ducting, Data Cabinets, Equipment Server Racks, Equipment Rackmounts, Cable Management, Server Racks Enclosures Splice Closures Hardware Data Center Racks, Seismic Cabinets, Cable Management, Corrugated Tubing, Ducting.

Data Center Solutions Enclosure Racks Cable Management Hardware, Seismic Enclosures Zone 4 Racks

In the event of an earthquake, Data Center Solutions include the type of enclosures used to house data center equipment is often the deciding factor in whether or not the equipment will remain active, and selecting the proper enclosure could mean the difference between failure and continued functionality. Earthquakes render data centers inoperative without warning by damaging the building, the equipment inside, and cabling connections that serve it. Many times, the biggest cause of equipment failure during an earthquake is due to the installation methods of housing equipment and its seismic stability.

Unlike our seasonal tornadoes throughout the country and hurricanes along our coasts, it's always earthquake season. Earthquakes have no preferred time of the year to strike and are not yet predictable. But, we can estimate their probabilities. In N. California-65% chance of an earthquake magnitude of 6.7, and in S. California has a 67%, with a 99% chance within California as a whole. Earthquake risks are not limited to California, as FEMA claims 38 states include regions of moderate-high seismic hazard. Unfortunately, around 60% of the U.S. population lives in these earthquake prone areas, so there is a good chance that any building is located within earthquake country. Therefore, when data centers are located in earthquake country, if an earthquake occurs, two things are inevitable; the site will be affected and the earthquake could happen any day or night without warning. Therefore, one of the best Data Center Solutions is to be prepared.

Despite what you may think, Zone 4 Seismic Enclosures Racks aren't just for areas prone to earthquakes. While they're ideal for housing servers and electronic equipment for businesses and data centers located near known earthquake zones, many "non-essential" data center are opting for the extra superior protection by utilizing Seismic Enclosures Zone 4 Racks. A great example is the increased use of Seismic Enclosures Zone 4 Racks within tornado and hurricane areas throughout America, as well as other premises that are affected by damaging vibration. Seismic Enclosures Zone 4 Racks are used in data centers, central office data centers, colocation data centers, co-location facilities, web server farm, server cluster, cloud computing, Law Enforcement, Fire Departments, Emergency Services, Homeland Security, Disaster Management, Communications Control, Broadcasting Companies, Events Departments, Mobile Laboratories, Test Equipment, Battlefield Command & Control, power plants, railroads, airports, etc.

Data Center Solutions Enclosure Racks Cable Management Hardware-Standard Server Racks, Enclosure Racks, Server Cabinets

Server Racks are used for mounting multiple server equipments securely. A Server Racks consists of a number of mounting slots that are called bays. Each of these bays is capable enough to hold a single hardware unit securely in one place. A rack can hold a number of servers that are stacked on top of each other. Thus, server racks consolidate different network resources and minimizes the requirement of floor space.

Once a server rack is configured it simplifies the cabling system. A server rack features a special cooling system that ensures that the rack does not get overheated (since multiple components are put together in one place). The specification for standard server racks is EIA-310. This basically includes multiple important features of a 19 inches rack like Rack Unit, horizontal hole spacing, vertical hole spacing, width of the front panel and rack opening. Standard server racks are highly durable, which is why they are ideal for mounting different server equipments.

Data Center Rack and Stack Products and Service Solutions for Colocation, Enterprise Architectures, Managed Services include Rack and Stack server rack design and equipment installation service. The IT technician and data center experts design the racks and mount equipment and wire your rack, as well as verify configuration and power-up the equipment. Data center migration Rack & Stack includes Rack design and layout, assembly and rack equipment mounting, network and power cable connections, Intra-cabinet cabling, documentation of cable runs and layout, as well as Visio diagrams and digital documentation.

In fact, the E-Series enclosure racks offer multiple features that are ideal for housing telecommunication equipment, computer hardware, LAN equipment and other electronic equipments. The Enhanced Series modular design accommodates initial installation and allows for future additions in today's progressive network environment.

Data Center Solutions Enclosure Racks Cable Management Hardware-Cable Management

As Discount Fiber specializes in Bulk Fiber Optic Cable, we have limited Cable Management Products. But, we do have, we'll save you money! We'll beat any price in the country on what we have in stock. Currently we have several types of Corrugated Loom Tubing, Corrugated Split-Tube Tubing and some ducting. If you can use it, we'll make you a great deal.

Discount Fiber is a supplier of Enclosure Racks Cable Management Hardware, Enclosure Racks Cable Management Hardware and Zone 4 Racks, Zone 4 Enclosures, Seismic Cabinets, Zone 4 Data Cabinets, earthquake enclosures, earthquake rack, Seismic Cabinets, Zone 4 Racks, Zone 4 Enclosures, Zone 4 Data Cabinets, Data Centers, Data Cabinets, Rack Systems, Fiber Optic Enclosures, Wholesale Fiber Optic Enclosures including Rack Mount enclosures, EMC wall mount enclosures, Fiber Optic Patch Panels, server racks fiber optic test equipment and data center equipment available at wholesale prices.

Enclosure Racks Cable Management Hardware along with structured cabling with multimode fiber optic cable and singlemode fiber optic cable with use of fusion splicers and structured wire such as UTP RJ45 and RJ11for gigabit Ethernet routers, video transmission and Bellcore optical switching equipment, wave division multiplexing, communications cabling, server farms, power generation , wireless modems, Motorola modems, legacy systems, relay racks, CCTV, VSAT, CATV, OC48, LAN, WAN, VDSL, DSL, MAN, COLO, ILECS, WDM, DWDM tested by OTDR, in conjunction with cross connects, innerduct, raceways, plenum innerduct, for Sonet, ATM, ISDN, VDSL, ADSL, DSL, HDSL, CLECS, RBOCS, CSU, DSU, OC12, T1, E1.

Data Center Solutions Enclosure Racks Cable Management Hardware-Rackmount Cooling Fans

Again, we have a limited stock of these items.

Data Center Solutions Enclosure Racks Cable Management Hardware-Hardware

Miscellaneous Hardware items by ADC, Telect Hendry and B-Line.